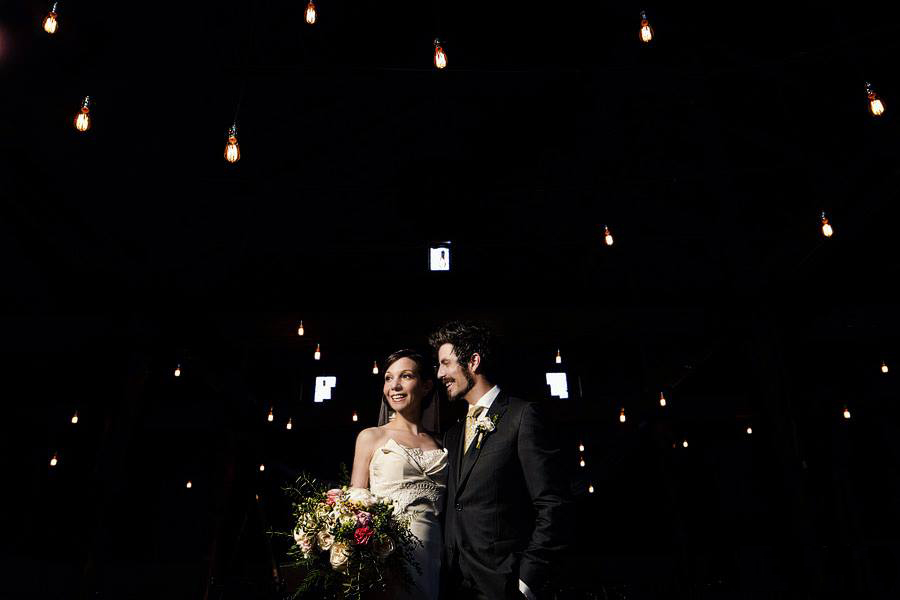 After deciding to have our wedding in a barn which had been converted into an event space my thoughts turned to lighting. With the rustic nature of the barn and the impressively high ceilings, one type of lighting sprang to mind instantly — Edison-style bulbs.
I've long been a fan of cloth covered wire, so I decided to make each bulb a separate hanging fixture with twisted cloth covered wire, an outlet and a bulb socket. This made the setup completely modular, allowing us to adjust for electrical loads and support almost any arrangement of bulbs. Each fixture would be plugged into a multi-outlet extension cord and secured with a small electrical tie. Each multi-outlet extension cord was plugged in through a lamp dimmer, which was also affixed with an electrical tie to avoid disconnections.
The parts I sourced are below, feel free to comment with better prices. These sockets are three-stage but the bulbs are not, bulbs could be swapped for three-stage bulbs or the sockets for single stage, but it all works regardless. Three-stage bulbs may eliminate the need for the dimmers, but having the dimmers made adjustments quite easy.
To wire the hanging fixtures I first slipped one piece of heat shrink tubing (without heating yet) over the cloth ends encompassing both leads. I then worked the cloth back, stripped the insulation inside and then attached the leads to the socket and plug. Once the leads were secured I shimmied the heat shrink as close to the connections as it would go and blasted it with the heat gun (or, oh my, harassed it with the soldering iron).
Before you go wild with these, do some math to see how many fixtures you should be plugging into each extension cord, and how much wattage your dimmer can support — watch dimmers closely at first, they may heat up, but make sure they're not melting!
If you're interested in other Edison-style lighting ideas and/or wondering what I did with all these lights afterwards check out DIY steampunk-style iron pipe Edison fixture and DIY reclaimed lumber hanging Edison bulb chandelier.
Update: Close to a year following our wedding we sent these lights, along with a simple handcrafted fixture, to family and friends as a token of our appreciation and as a keepsake from our wedding. Details about the Edison light thank you packages can be found here.
Parts